14 Luke Ingles
Defense





Senior


Shoots: Right
Wt: 185 lbs Ht: 6' 4"
Born: October 1, 1989 in Staten Island, NY
Home: Bayonne
Favorite Hockey Team: New York Rangers
Favorite Hockey Player: Sean Avery
Home Life: Parents; Doug & Diane
Brothers; Nick, Matthew & Erik
Sister; Amanda
Skates: Bauer Vapor XI
Dream Stick: Sherwood 9950 Coffey (is there a better stick in the world?)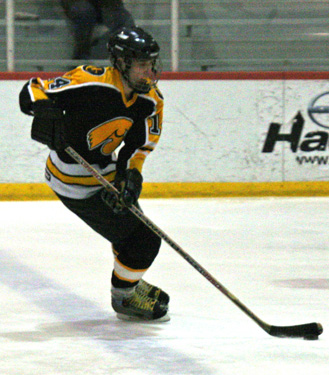 Luke Ingles is in his fourth year with the Hawks and has been selected, along with Daniel Lucas and Alex Torres, as one of the teams tri-captains. An experienced youth hockey defenseman, Ingles was a member of both the varsity and junior varsity teams in his freshman year. Last year, Ingles stepped up to be one of the top defenseman on the team. His first varsity goal came against O'Neill High School in the Tate Arena in West Point. This year, Ingles continues to be one of the Hawks top blueliner as well as one of the team leaders in scoring. Ingles notched his first varsity hat trick on January 21, 2008 in a game against A.L. Johnson Regional High School at Warinanco Rink. He also had an assist in the game for a total of four points. Ingles four points in a game is the most since January 7, 2005 when Marc Malone had five points in a game against C.B.A.
On February 4, 2008, Ingles was named the Jersey Journal's "Athlete of the Week" for scoring eight goals in a week (covering three games).
On February 15, 2008, Igles had four goals and two assists in a 9-8 win over Jackson High School. This was the first four-goal game since Malone scored four against C.B.A. on January 7, 2005. That completed a span of three games where Ingles scored nine goals (three against Newark Eastside and two more against Newton) and assisted on three others.
Ingles was voted Second Team All-Star for the Northern Blue Division.
Ingles started skating at the age of four in Bayonne. His first travel team was the Bayonne Ranger's Mite "C" team which also had teammate Justin Lucas and was coached by former Hawk coach Frank McGady. Ingles played his entire youth hockey career with the Bayonne Rangers. His final year was with the the Midget Minor A team. This year, Ingles, along with teammate Daniel Lucas, played on the Bayonne Saints, a pre-season midget team.
Outside of hockey, Ingles enjoys impressing people with his knowledge of movie themes. All three of Ingles's older brothers are hockey players, played for Bayonne High School while Matt and Erik played for St. Peter's Prep. His other brother Erik was forced to give up hockey after sustaining a serious back injury during a youth hockey game.
At Hudson Catholic, Ingles is a Peer Minister and a member of the varsity golf team. He was elected to the school's Student Council and serves as the Corresponding Secretary. Currently, Ingles is a freshman at the University of Rhode Island.
CAREER STATISTICS
Season Statistics Playoff Statistics

| | | | | | | | | | | | | | | |
| --- | --- | --- | --- | --- | --- | --- | --- | --- | --- | --- | --- | --- | --- | --- |
| | Games | Goals | Ass't | Points | PPG | SHG | +/- | PiM | Games | Goals | Ass't | Points | +/- | PiM |
| 2004-05 | 24 | 0 | 0 | 0 | 0 | 0 | 0 | 0 | 1 | 0 | 0 | 0 | | 0 |
| 2005-06 | 17 | 1 | 4 | 5 | 0 | 0 | | --- | --- | --- | --- | --- | | --- |
| 2006-07 | 21 | 3 | 5 | 8 | 0 | 0 | | 44 | --- | --- | --- | --- | | --- |
| 2007-08 | 26 | 26 | 18 | 44 | 4 | 2 | -41 | 36 | --- | --- | --- | --- | | --- |
| Total | 89 | 30 | 27 | 57 | 4 | 2 | | 80 | 1 | 0 | 0 | 0 | | 0 |