97 Daniel Lucas
Forward




Shoots: Right


Wt: 150 lbs Ht: 5' 11"


Born: October 15, 1990 in Secaucus, N.J.


Home: Bayonne


Favorite Hockey Team: Philadelphia Flyers


Favorite Hockey Player: Jeremy Roenick


Home Life: Parents; Robert & Judi
Brothers; Ryan '03 & Justin '07
Aunt; Debbie
Skates: Bauer Supreme 3000
Dream Stick: Easton Synergy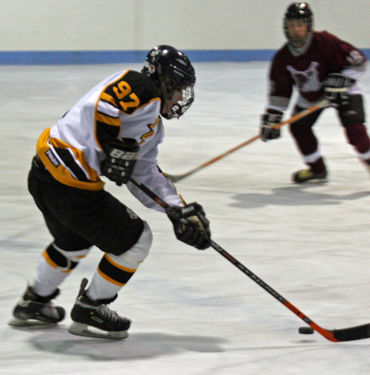 Daniel Lucas is entering his fourth year with the Hawks. In his first season, Lucas, despite being a freshman, played a lot on varsity. His first varsity goal came against St. John Vianney. Last year, Lucas was the top scorers on the team. At the end of the season, Lucas was named the team's MVP. This year, despite playing in only 13 games (half of the season), Lucas was second on the team in scoring with 24 points.He has been selected, along with Luke Ingles and Alec Torres, as one of the teams tri-captains.
Lucas injured his shoulder in December and missed half of the season recovering. He returned on February 4 against River Dell. Lucas caught fire after that scoring his first career varsity hat trick against Newark Eastside on Febuary 8 while added a pair of assists. His next game against Newton, Lucas had two goals and an assist in a 4-4 tie. On December 14, Lucas scored four goals and assisted on three others for seven points in a 9-8 win over Jackson High School. In a three game span, Lucas had nine goals and six assists for 15 points.
Lucas started skating at the age of four in clinics in Pershing Field. His first travel team was the Jersey City Capitals Mite "B" team with teammate Alec Torres. Both Torres and Lucas returned to the Capitals the following year. Lucas moved up to the Jersey Penguins Squirt "A" team. Two years ago, he moved up to the Penguins Pee-wee "A" team. The following year, Lucas played on the Penguins Bantam "A" team. He then moved to the ,New Jersey Avalanche Bantam "AA" team. Two years ago, Lucas played on the Wildcats Junior "C" team. Last year he was back with the Avalanche Midget Minor "AA" team.
Lucas has also participated in the Garden State Games for the past five years in the youth level. The last two years he won a gold medal, the second year with cousin Damian Greiner. He qualified for the scholastic level this year, but an injury forced to sit out the Games.
At Hudson Catholic, Lucas is an editor of the Hudson Catholic Yearbook, a member of the Drama Club's stage crew and the History Club.
His oldest brother, Ryan, class of 2003, played three years of varsity hockey at Hudson Catholic. He graduated from the University of Scranton where he played hockey at the varsity level. His other older brother, Justin, class of 2007, is a freshman at University of Scranton and the goalie on the varsity hockey team. Lucas is also the cousin of former teammate Damian Greiner and nephew of Coach McGady. Lucas has been accepted, with a scholarship, to St. Peter's College where he currently attends.

CAREER STATISTICS
Season Statistics Playoff Statistics

| | | | | | | | | | | | | | | |
| --- | --- | --- | --- | --- | --- | --- | --- | --- | --- | --- | --- | --- | --- | --- |
| | Games | Goals | Ass't | Points | PPG | SHG | +/- | PiM | Games | Goals | Ass't | Points | +/- | PiM |
| 2004-05 | 22 | 1 | 0 | 1 | 0 | 0 | -28 | 0 | 1 | 0 | 0 | 0 | | 0 |
| 2005-06 | 19 | 4 | 4 | 8 | | | | 10 | --- | --- | --- | --- | --- | --- |
| 2006-07 | 21 | 3 | 3 | 6 | | | | | --- | --- | --- | --- | --- | --- |
| 2007-08 | 13 | 15 | 9 | 24 | 4 | 0 | -14 | 22 | --- | --- | --- | --- | --- | --- |
| Total | 75 | 23 | 16 | 39 | 4 | 0 | | 32 | 1 | 0 | 0 | 0 | | 0 |