Humphrey Bogart as Rick Blaine

Quote:

"I'm

n

o good at being noble, but it doesn't take much to see that the problems of three little people don't amount to a hill of beans in this crazy world. Someday you'll understand that. Now, now...Here's looking at you kid."
- Rick convincing Ilse to get on the plane.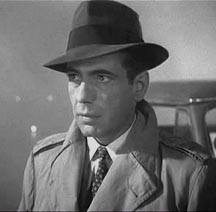 There has been a number of rumors through the years that Bogart was not the studios choice to play the part of Rick Blaine. Other actors like Ronald Reagan or George Raft were considered first for the part. This simply is not true. Bogart was producer Hal B. Wallis' only choice to play Blaine. In fact, he was writing the part for Bogart. The rumor comes out of some old studio publicity done at the time to promote various actors.
Born Humphrey DeForest Bogart on December 25, 1899 (there was a little controversy on the date) in New York City, the oldest of three. He was the son of a Manhattan surgeon and a magazine illustrator (in fact, she used a drawing of her baby Humphrey in a well-known ad campaign for Mellins Baby Food - not Gerber's, which debunks another myth). He had a tough childhood with both parents being alcoholics. Bogart was educated at Trinity School, in New York City and then was sent to Phillips Academy in Andover, Massachusetts. Though a poor student, Bogart was a lifelong reader. He could quote Plato, Pope, Ralph Waldo Emerson and over a thousand lines of Shakespeare. The hope was for Bogart to pursue a medical career like his father. This didn't work out as planned as he was expelled from Phillips Academy (for smoking) in 1918 and joined the U.S. Navy. According to one story, while in the Navy, he was wounded in the shelling of the Leviathan; the resulting partial paralysis caused his signature snarl and lisp (there are a number of other stories of how the injury occurred). From 1920 to 1922, he managed a stage company owned by family friend William S. Brady, performing a variety of tasks at Brady's film studio in New York. His acting career began shortly after this. His first role was portraying a Japanese butler (that must have been a stretch). It was his friend Spencer Tracy that gave him the nickname, "Bogie."
1924, Bogart married his first wife, Helen Menken, which ended in divorce a year later (though they remained friends). In 1928, he married Mary Philips (who went on to appear in 20 movies - including A Farewell to Arms in 1932) and divorced her ten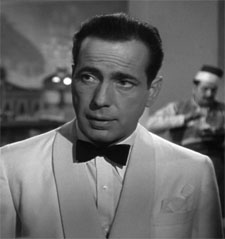 years later in 1938 when she refused to follow him from Broadway to Hollywood. Four months later, he married actress Mayo Methot (who appeared in 28 movies herself). This was a very tumultuous marriage. Their fights became famous and they became known as the "Battling Bogarts." During this time, Bogart bought a sailboat, which he named "Sluggy" after his hot-tempered wife. He divorced her in 1945 to marry actress Lauren Bacall. They had appeared together in To Have and Have Not in 1944 when she was 19 years old. Bogart and Bacall moved into a $160,000 white brick mansion in Holmby Hills, an exclusive neighborhood between Beverly Hills and Bel-Air. They would be happy together until his death.
After a number of small roles, Bogart's break came in 1936. Two years earlier, Bogart starred in the play Invitation to a Murder. Producer Arthur Hopkins saw the play and wanted Bogart when he chose to produce Robert E. Sherwood's new play, The Petrified Forest for Broadway. Bogart originaly thought he was better suited to play the part of the football player/gas attendent. However, he was cast in the role of escaped killer/gang leader Duke Mantee. The show, with Leslie Howard playing the lead, had 197 performances. Warner Bros. bought the screen rights to The Petrified Forest and signed up Leslie Howard. The studio wanted veteran actor Edward G. Robinson for the Duke Mantee role. Howard insisted that Bogart play Duke Mantee. When Warner Bros. saw that Howard would not budge, they gave in and gave him the role. Bogart was always grateful that Howard stuck up for him and later in 1952 named his only daughter, Leslie, after Howard (who had died during World War II).
This would be the start of a string of gangster/tough guy roles for Bogart along with a contract with Warner Brothers Studios. From 1936 to 1940, he appeared in 28 movies (averaging two a month), such as Angles with Dirty Faces with James Cagney (who shoots him in the movie). In his movie career as a tough guy/gangster, he went to the electric chair 12 times. He didn't like the roles he always got, such as Swing Your Lady and The Return of Doctor X, but in those days you couldn't choose the roles you played, you just did what the studio told you to do.
In 1937, Bogart received a substantial leading role in Samuel Goldwyn's Dead End. He also appeared that year as Frank Taylor, his first lead in an "A" feature, in Warner Bros. anti-Klan, and in a bigger sense anti-Nazi, movie Black Legion in 1937.
His big year came in 1941, when he played the part of the villain, Roy 'Mad Dog' Earle in Raoul Walsh's High Sierra (it also featured Bogart's own dog in the movie) which was written by Bogart's friend and drinking partner, John Huston and later as Sam Spade in the The Maltese Falcon. James Cagney and George Raft had both turned down Bogart's part in High Sierra; Raft didn't want to play a character who died at the end. Then Raft turned down the lead in John Huston's directorial debut, The Maltese Falcon. In this film, he would team up with future Casablanca co-stars Sidney Greenstreet and Peter Lorre (the first of four movies the three would appear in together). Finally, he didn't play the bad guy, but a tough detective who had a great line when he turned his murderess client (Mary Astor) in to the police, "I don't care who loves you. I won't play the sap for you! You killed Miles and you're going over for it. I hope they don't hang you by your sweet neck. If you're a good girl, you'll be out in 20 years and you'll come back to me. If they hang you, I'll always remember you."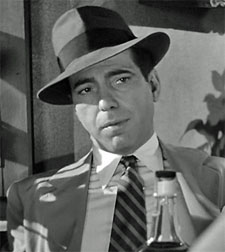 The following year, at the age of 42, he was given his first serious romantic lead in Casablanca. He put a lot of himself into the character of Rick Blaine, the soured idealist, loner and hard-drinking man on the run from some mysterious past. Rick Blaine was even a chess player which Bogart was in real life (one level below master level). This was the only film that he and co-star Ingrid Bergman did together and he was paid $36,667. They had great onscreen chemistry, however, it ended there. Off the set, Bergman and Bogart hardly spoke during filming. She said later, "I kissed him but I never knew him." Bogart did make friends with other actors like Claude Rains, the sincere friendship that Rick and Louis have on set was very real between Bogart and Rains, and was already friends with Peter Lorre, his partner in crime when it came to playing practical jokes.
Bogart earned an Oscar nomination in 1943, however he lost out to Hungarian actor Paul Lukas who starred in Watch on the Rhine. Bogart made three other films in 1943: Sahara, Action in the North Atlantic and Thank Your Lucky Stars.
In 1944, he played Jean Matrac, a former French journalist who is outraged by France's pre-war appeasement of the Nazi's and later wrongly convicted to Devil's Island in Passage to Marsailles which was produced by Hal B. Wallis and directed by Michael Curtiz. Later he escapes and eventually becomes a flyer in the Free-French Air Force and is killed in a bombing mission over Germany. In the movie, Bogart is again reunited with his Casablanca co-stars; Lorre, Rains, Dantine and Greenstreet.
In 1947, he joined Lauren Bacall and others protesting the witch hunts of the House Un-American Activities Committee. Bogart was not, however, prepared to deal with the industry pressure to abandon this campaign; within a year he disavowed his activities, retreating to his role as actor and apologizing for speaking out on politics.
He played other great roles. In 1948, as Fred C. Dobbs in The Treasure of the Sierra Madre. Bogart played Frank McCloud in John Huston's Key Largo with Edward G. Robinson and his future wife Lauren Bacall - (the last of their four movies together). Casablanca actors Dan Seymour, Monte Blue and Alberto Morin also had parts in this movie. Bogart has a great line in this movie when he confronts gangster Johnny Rocco (Robinson) when they are all trapped in a hotel during a hurricane. He tells Rocco, who is becoming agitated over the storm, "You don't like it, do you Rocco, the storm? Show it your gun, why don't you? If it doesn't stop, shoot it." In 1949, he played a lawyer defending a young inner-city murder suspect in Knock on Any Door. In this movie, his former Casablanca co-star Dooley Wilson is back at the piano.
In 1951, Bogart played gin-swilling riverboat captain Charlie Allnut in John Huston's The African Queen, where he starred with Catherine Hepburn, who he calls in the movie, a "crazy, psalm-singing, skinny old maid!", and won his only Academy Award (Oscar). He beat out other great actors like Marlon Brando (Streetcar Named Desire), Fredric March (Death of a Salesman) and Montgomery Clift (A Place in the Sun). Filming this movie caused him to travel to Africa where just about everyone in the cast came down with dysentery except Bogart and John Huston (Bogart claims it was because of all of the scotch he drank). This was the first of only five Technicolor films in which Bogart appeared in (the other color films included The Caine Mutiny, The Barefoot Contessa, We're No Angels, and The Left Hand of God.) Also in 1951, Bogart and Bacall co-starred in the syndicated radio drama Bold Venture, for which he was paid a reported $4,000 a week.
In 1954, while feeling the effects of the throat cancer that would take his life, he portrayed Captain Queeg in The Caine Mutiny with Van Johnson and Fred MacMurray. Bogart was nominated for an Oscar for the third time for this role, but lost to Marlon Brando who starred in On the Waterfront. Later that year, he portrayed Linus in Sabrina with Audrey Hepburn and William Holden. In 1956, he appeared in his 75th and final movie portraying a has been sportswriter in The Harder They Fall with Rod Steiger. He was voted the Greatest Movie Star of all time by Entertainment Weekly and ranked #1 on the American Film Institute's list of the greatest screen actors. Two Bugs Bunny cartoons featured Bogart including one where Bugs Bunny decides to take a baby penguin back to the South Pole; at intervals throughout the cartoon, "Fred C. Dobbs" (Bogart's character in Treasure of the Sierra Madre) appears and asks Bugs to "help a poor American down on his luck." Bugs always flips him a coin and in a Bogart fashion says, "hit the road." In the end, the Bogart character gets the penguin.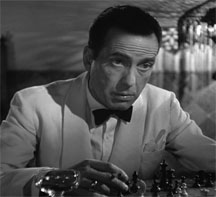 Bogart never took care of himself. He drank heavily and smoked unfiltered Chesterfields. As his health failed, he finally went to a doctor and found out he had cancer of the esophagus. He died in his sleep, at the age of 57, in his Hollywood home on January 14, 1957. His wife, Lauren Bacall, placed a small gold whistle in his coffin. This was from their first movie together when Bacall said the famous line to Bogart, "You know how to whistle, don't you, Steve? Just put your lips together, and blow." His funeral was held at All Saints Episcopal Church with musical selections played from Bogart's favorite composers, Johann Sebastian Bach and Claude Debussy. John Huston who gave the eulogy said, "He is quite irreplaceable. There will never be another like him." In 1999, the American Film Institute named Humphrey Bogart the Greatest Male Star of All Time.
Bogart's cremated ashes are interred at Forest Lawn Memorial Park in Glendale, California, in the Garden of Memory, Columbarium of Eternal Light (not accessible to the general public). He is a few feet away from actor Victor McLaglen (Gunga Din).
There are more major Hollywood stars buried at Forest Lawn than at any other spot in the world. It is a huge cemetery (over 300 acres) that also contains Casablanca co-stars Sydney Greenstreet, S.Z. Sakell, John Qualan along with producer Hal B. Wallis, director Michael Curtiz and composer Max Steiner. Other famous actors and actresses like Joan Blondell, Clara Bow, Clark Gable, Carole Lombard, Jimmy Stewart, Jean Harlow, Mary Pickford, Errol Flynn, Spencer Tracy, George Burns & Gracie Allen, W.C. Fields, Sammy Davis Jr., Walt Disney, Red Skelton, Robert Young, Lon Chaney, Alan Ladd, Ted Knight, Sam Cooke, Nat King Cole and Chico Marx are also buried here. They even have a small chapel that they perform weddings in. Ronald Reagan and Jane Wyman got married here in 1940.

The Official Site of Humphrey Bogart
Tribute to Humphrey Bogart (excellent site)
The Bogart Site
Humphrey Bogart's Hollywood
Grave Photo