William H. Rehnquist
16th Chief Justice of the Supreme Court
Served: September 26, 1986 to September 3, 2005
Born: October 1, 1924 in Milwaukee, Wisconsin
Died: September 3, 2005 in Arlington, Virginia
Buried: Arlington National Cemetery, Arlington, Virginia
<![if !vml]>
<![endif]>                Many Supreme Court justices are buried in Arlington National Cemetery, so they are easy to find. I have taken a number of pictures here back in 1996, when we took the hockey team to Washington D.C. during Christmas break to play in a tournament. What makes it even easier, most of them are in the same section - Section 5 (near the John F. Kennedy gravesite). Also in Section 5 are Chief Justice Warren Earl Burger, Associate Justices Harry A. Blackmun, William J. Brennen Jr., William Douglas, Potter Stewart, Oliver Wendell Holmes Jr. and Thurgood Marshall. Other Justices in Arlington and Arthur Goldberg (Sec. 21), Hugo Black (Sec. 30). When we were here in 1996, Rehnquist was still alive and well and serving as Chief Justices. After his passing in 2005, Debbie and I had to return. This we did on August 31, 2010, to get Chief Justice Rehnquist making him the 8th Chief Justice on the list.
                William Donald Rehnquist was born the son of William and Margery Rehnquist. His father was the son of Swedish immigrants. His middle name was later changed to Hubbs because H was a considered a better middle initial than D. After spending a year in Kenyon College, in Gambier, Ohio, he joined the Army Air Force during World War II. He spent three years in the military remaining stateside and not seeing combat. He was discharged in 1946 with the rank of sergeant. He married Natalie Cornell and had three children; James, Janet and Nancy.   
                After the war ended, Rehnquist attended Stanford University under the G.I. Bill. In 1948, he received a master's degree in political science. In 1950, he attended Harvard University, where he received another masters, this time in government. He later graduated from the Stanford Law School in the same class as Sandra Day O'Connor whom he briefly dated.
                In 1952, Rehnquist went to Washington, D.C. to work as a law clerk for Justice Robert H. Jackson. There, he wrote a memorandum arguing against federal court-ordered school desegregation while the court was considering the landmark case of Brown v. Board of Education, which was later decided in 1954. Rehnquist's 1952 memo, entitled "A Random Thought on the Segregation Cases", defended the "separate-but-equal" doctrine as well as Plessy v. Ferguson. He changed his opinion later during confirmation hearings.
<![if !vml]>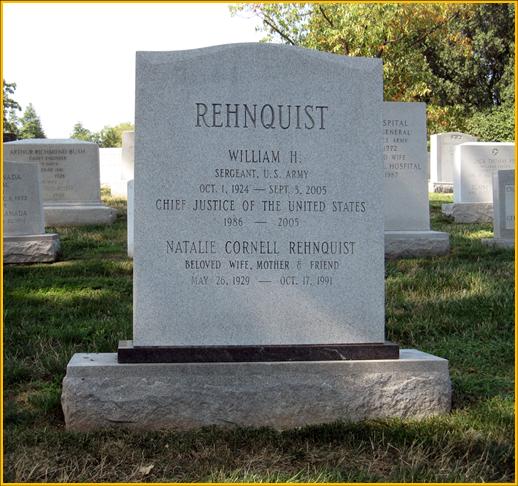 <![endif]>               The following year, Rehnquist moved to Phoenix, Arizona, where he was in private law practice to 1969. While in Phoenix, he became a Republican Party official and achieved prominence in the Phoenix area as a strong opponent of liberal initiatives such as school integration. Rehnquist campaigned for Republican presidential candidate Barry Goldwater during the 1964 elections. Rehnquist married Natalie Cornell, whom he had met during his law school years. They would have three children; James, Janet and Nancy. 
               When Richard Nixon was elected president in 1968, Rehnquist returned to work in Washington D.C. He served as Assistant Attorney General of the Office of Legal Counsel, from 1969 to 1971. In this role, he served as the chief lawyer to Attorney General John Mitchell.
                Nixon nominated Rehnquist to replace John Marshall Harlan II on the Supreme Court upon Harlan's retirement, and after being confirmed by the Senate by a 68–26 vote on December 10, 1971, Rehnquist took his seat as an Associate Justice on January 7, 1972 (there is a photo of him being sworn in below.) On the Burger Court, Rehnquist promptly established himself as the most conservative of Nixon's appointees, taking a narrow view of the 14th Amendment and a broad view of state power. It was said that Rehnquist almost always voted "with the prosecution in criminal cases, with business in antitrust cases, with employers in labor cases and with the government in speech cases." One of his first major rulings was Roe v. Wade, in which he was one of only two justices who broke with the majority in the controversial case that upheld abortion rights. Besides abortion, he also defended school prayer, opposed affirmative action and supported capital punishment. Although Rehnquist was often a lone dissenter in cases early on, his views would later often become the majority view of the Court.
                When Chief Justice Warren Burger retired in 1986, President Ronald Reagan nominated Rehnquist to fill the position. Although Rehnquist was to the right of Burger, "his colleagues were unanimously pleased and supportive," even his "ideological opposites." The nomination "was met with 'genuine enthusiasm on the part of not only his colleagues on the Court but others who served the Court in a staff capacity and some of the relatively lowly paid individuals at the Court. There was almost a unanimous feeling of joy.'" Justice Thurgood Marshall would later call him "a great Chief Justice." The Senate confirmed his appointment by a 65–33 vote, and he assumed the office on September 26. Rehnquist's seat as an associate justice was filled by Justice Antonin Scalia.
                As Chief Justice, he won over his fellow justices with his easygoing, humorous and unpretentious personality. He was known for being fair to all of the justices by allowing everyone's opinion to be heard. Though a conservative, he tended to be more pragmatic than the more conservative members of the Court. He dramatically reduced the court's caseload and improved its efficiency.
                Rehnquist also led the Court toward a more limited view of Congressional power under the Commerce Clause of the U.S. Constitution. In 1995, he wrote for a 5-to-4 majority in United States v. Lopez, striking down a federal law as exceeding congressional power under the Clause. This was the first time since the 1930s, which the Court struck down an Act of Congress as exceeding its power under the Commerce Clause.
                In 1999, Rehnquist became the second Chief Justice (after Salmon P. Chase) to preside over a presidential impeachment trial, during the proceedings against President Bill Clinton. In 2000, Rehnquist wrote a concurring opinion in Bush v. Gore, the case that effectively ended the presidential election controversy in Florida. He concurred with four other justices in that case that the Equal Protection Clause barred a "standardless" manual recount of the votes as ordered by the Florida Supreme Court.
<![if !vml]>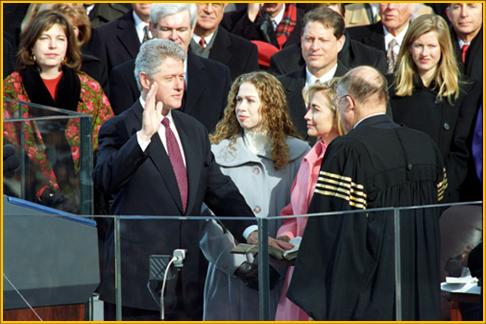 <![endif]>               Although many conservatives had hoped that Rehnquist would lead the court in a reversal of Roe v. Wade (1973), the ruling that established the legal right to abortion, the decision of three Republican appointees in Planned Parenthood of Southeastern Pennsylvania v. Casey (1992) permitted greater legal restrictions on abortion but also reaffirmed the right found in Roe.
              On a purely stylish note, Rehnquist added four yellow stripes to the sleeves of his robe. He was a lifelong fan of Gilbert and Sullivan operas, and after appreciating the Lord Chancellor's costume in a community theater production of Iolanthe he thereafter appeared in court with the same striped sleeves (the Lord Chancellor was traditionally the senior member of the British judiciary.) His successor, Chief Justice John Roberts, chose not to continue the practice.
                As Chief Justice Rehnquist swore in four presidents; Reagan (second term), George H. W. Bush, Bill Clinton (twice) and George W. Bush (twice).
                In 2004, Rehnquist was diagnosed with anaplastic thyroid cancer. Though his physical condition declined, he continued in his role as chief justice. He administered the oath of office to President George W. Bush at his second inauguration in January of 2005. Rehnquist died at his Arlington, Virginia, home on September 3, 2005, just four weeks before his 81st birthday. Rehnquist was the first member of the Supreme Court to die in office since Justice Robert H. Jackson in 1954, and the first Chief Justice to die in office since Fred M. Vinson, in 1953. Rehnquist's body remained in the Great Hall of the Supreme Court (his casket was placed on the same catafalque that bore Abraham Lincoln's casket as he lay in state in 1865) until his funeral on September 7, 2005, a Lutheran service conducted at the Roman Catholic Cathedral of St. Matthew the Apostle in Washington, D.C. Rehnquist was eulogized by President Bush and Justice Sandra Day O'Connor. The Rehnquist funeral was the largest gathering of political dignitaries at the cathedral since the funeral of President John F. Kennedy in 1963. Rehnquist's funeral was followed by a private burial service, in which he was interred next to his wife, Nan, at Arlington National Cemetery. President Bush nominated John Roberts to be Chief Justice to replace Rehnquist.
                Rehnquist served as Chief Justice for nearly 19 years, making him the fourth-longest-serving Chief Justice after John Marshall, Roger Taney and Melville Fuller, and the longest-serving Chief Justice who had previously served as an Associate Justice. The last 11 years of Rehnquist's term as Chief Justice (1994–2005) marked the second-longest tenure of a single unchanging roster of the Supreme Court, exceeded only between February 1812 and September 1823.
Here are some webpages of interest:
The University of Arizona: Rehnquist Center