<![if !vml]>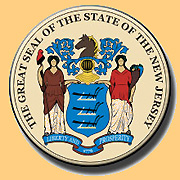 <![endif]><![if !vml]>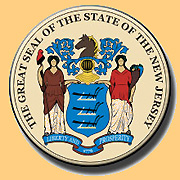 <![endif]> This has been so much easier with the traveling, but DGovs (Dead Governors) are harder to find. First of all, you have to find where they are buried. Most were easy, using the computer, but sometimes it involved looking at old microfilm of newspapers in the library to find obits. As I looked, I found out that TWO of them were in the same cemetery in Jersey City, how convenient you might think. Except that one of them doesn't even have his name on the headstone. I had to get the women in the main office to look up to see if he was really down there.

Then there is the problem of who officially counts as a Governor. This wasn't easy either, not like presidents. I came across numerous lists, all of them being different. I finally got an official source and discovered that there are only 50 Governors - unofficial lists has the number at near 70. We have had a lot of interim acting governors since 1776 and the official count doesn't count non-consecutive terms as separate, like Grover Cleveland is counted as our 22nd and 24th President (I bet you all were really wondering about this.)

James McGreevey was governor number 51. Richard J. Codey is only acting governor, so he is not official and doesn't have a number because he was not elected. In November of 2005, Jon Corzine was elected governor number 52 and in November of 2009, Chris Christie was elected governor number 53.

So to be official, you had to be elected and sworn in. One person was elected, but chose not to be governor (for who knows what reason) so he doesn't count. Of the 52 ex-govs, six are still going strong - so I got to work on finding the other 46 - how many do I have? Well, this past May 19, my wife and I, while driving back from a hockey tournament in Delaware, stopped in Swedesboro - exit 2 on the Turnpike - to get Governor Charles C. Stratton, the 40th on the list. I am almost there.

NOTE: As of January 9, 2006, New Jersey law states that an Acting Governor serving for 180 or more days is officially considered a Governor. This applies to both Donald DiFrancesco (51) and Richard Codey (53). This also makes Governor Corzine number 54 instead of 52. Governor Christie is 55.

With this new law, there are NOW eight ex-govs still going strong; Byrne, Kean, Florio, Whitman, DiFrancesco, McGreevey, Codey and Corzine to go along with current Governor Christie.
<![if !vml]>

<![endif]><![if !vml]>

<![endif]><![if !vml]>

<![endif]><![if !vml]>
<![endif]><![if !vml]>

<![endif]><![if !vml]>

<![endif]><![if !vml]>

<![endif]><![if !vml]>

<![endif]><![if !vml]>

<![endif]>

Even with the ease of traveling, would you believe that 7 of the 46 are NOT buried in New Jersey? One is in Albany (and I happen to have him already by chance - he was in the same cemetery as president Chester Arthur), one is in Pennsylvania, three are in Brooklyn (God knows why?) and two are in Washington D.C. (one of these is President Woodrow Wilson).

A problem that I is that I may never get to 46. The problem I have is that two of our governors are buried in unknown locations. William S. Pennington, the 6th Governor, most likely was buried in one of the old Presbyterian cemeteries in downtown Newark – there were three of them – don't know which one he may have been buried in. However, to make it more difficult, they have all been moved. I can't find any mention of where he was moved to. A plaque on the First Presbyterian Church on Broad Street list the Revolutionary War heroes buried in their cemetery – one name listed is William Pennington – who was a major in the 2nd New Jersey Artillery – so was he buried there? In 1888, a nearby Presbyterian cemetery was moved to make way for urban development – the graves were moved to Fairmount Cemetery on Central Avenue. His son, the 12th Governor, was buried in Mt. Pleasant Cemetery overlooking the Passaic River in Newark. Did they move dad here? There is no mention on the stone, but maybe they did anyway. I can't find anything on what happened to him. Did they not move him and he is currently under the Prudential Center which was built behind the First Presbyterian Church on Broad Street – maybe below center ice (don't worry Devils fans – this is a joke – if they found any graves when they were building the Prudential Center they were moved). The truth is – Governor Pennington's remains may have been lost forever.

The other one, Isaac H. Williamson, the 8th Governor, most likely was buried in the St. John's Episcopal Church Burying Grounds, however, where are they? Debbie and I looked through the churchyard next to the church, but he may have been in a separate place. Does it exist anymore? If not, where was he moved to?
       Another mystery is Governor George Silzer. He was cremated in Rosehill Cemetery in Linden in 1940. However, what became of his ashes?
If I lived in Alaska, this would be so much quicker - they have only ONE DGov, but then where would all the fun be.
They say imitation is the finest form of flattery and I am flattered. A fellow dead president searcher, Patrick Weissend of Batavia, New York, has created a dead Governor's of New York site. His site is well made and is definitely worth looking at.